Cyber security audit challenges in 2020
The importance of accurately identifying and communicating a business's risk exposure has never been more critical.  This is particularly true for  audit and security managers who undertake cyber security audits.   
In this blog post we look at the key factors affecting cyber security audits including audit accuracy, sampling and coverage, timeliness, resources and costs.  We then go on to provide some insights into how technology can help with the digital transformation of the process.
Factors affecting cyber security audits
Regulation and Governance
There has been a huge rise in the pressures being applied to business by laws and regulation, such as the privacy requirements of GDPR.  These pressures affect not just IT and technical areas, and the volume of work they need to deal with – they impose responsibility to consider cyber security in marketing, operations, HR, finance and audit and compliance functions that are now such a critical part of corporate governance.  It is now vital that a wide range of stakeholders are well informed about the organisation's security posture and any potential or actual breaches.
Dealing with an overwhelming workload
As workloads expand and the timeliness of assessments come under growing pressure from mandatory requirements placed on businesses, resources are often stretched to breaking point.  This has an effect on staff welfare, can become a compliance issue and a massive risk exposure.
Across all aspects of business, digital transformation is a guiding strategy to reduce the amount of human intervention in repetitive or laborious processes and streamline workflows so that the majority of transactions or cases are automatic or customer-driven. The goal is to enable managers or operators to get involved only for oversight or to handle specific instances – to receive the outputs from processes that are reliably and algorithmically defined, rather than having to manually drive them.
Audit sampling
Traditional audit processes utilise sampling. This works well when you are trying to identify errors or faults in controls or processes. You can take a set of representative examples, check them and then extrapolate the likely error rate or likelihood of failures. In cyber security, however, the error condition is often a deliberate or forced act.
Cyber security risks often have their root causes in oversights, mistakes or human failings; and they are then often exploited or manifest deliberately as an attacker looks for a vulnerability or an open door. So, the omission of just one failure from a sample may specifically be the target of an initial attack – a sample will be "choosing x from y" whereas an attacker will check "all of y" for a weakness. Using audit sampling methodology leaves the cyber risk door wide open.
Audit frequency
Many organisation's undertake audit checks once per year – it's a big investment in time and resources.  Given the dynamic nature of a cyber security environment the reality is that an organisation's security posture can be perfectly fine one day but compromised the next.
Many cyber attacks take seconds to mount, coupled with the fact that many defensive processes like security configurations, patching, backups and group memberships are continuous in nature. It is not only possible, but highly likely that an environment will, over time, "drift" away from a secure state. This means that annual/quarterly audits or health-checks may well be too infrequent to provide an accurate view of risk exposure or assurance.
Also, infrequent or annual audits can be "prepared for" – with a spring cleaning exercise often preceding them; thereby obfuscating a "true" view of risk exposure. How can audit and risk managers execute audits more frequently and cost effectively?
How to improve cyber risk audits
Technology
There is no doubt that machine generated workloads require machine generated processing – no matter what industry you look at.  In the world of cyber risk auditing, a manual response to regulatory requirements such as 'regular' and 'ongoing' audits cannot be met without tools; the digital transformation of compliance and cyber resilience needs to maximise coverage and scope so that obscure or hidden cyber vulnerabilities are not missed, masked or simply not included in a chosen sample.
The emergence of audit tools, that have the ability to support regular audit cycles by gathering data and generating reports with minimal human intervention, is more important than ever.  This provides assurance to stakeholders and supports the fulfilment of regulatory requirements.  Automated approaches are more efficient than manual ones. They are less prone to subjectivity, reporting bias and fallibility.
Transforming the measurement of security control effectiveness
No matter what regulation, standard or framework you are auditing against, there is a common set of security controls that you need to check are in place and operating effectively. These generally include: application whitelisting, application patching, operating system patching, restricting administrative privileges, multi-factor authentication, user application hardening and taking daily back-ups. The image below shows an example of the valuable information our Essential 8 Auditor product can communicate regarding the effectiveness and maturity of the application whitelisting security control.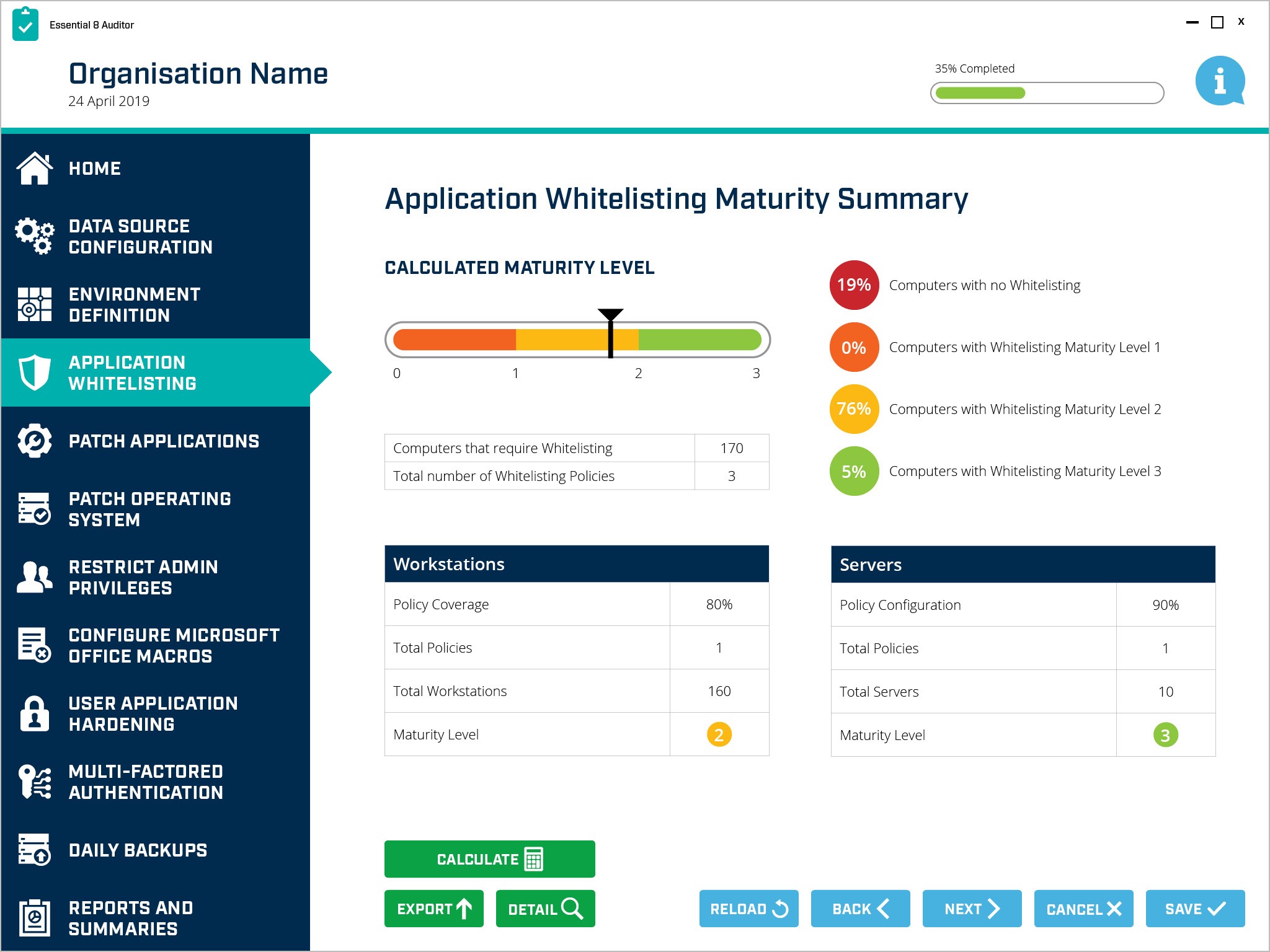 Essential 8 Auditor – Application Whitelisting Security Control Summary
The Essential 8 Auditor delivers an immediate view of an organisation's cyber posture against 8 fundamental security controls, recognised by Australian Government as the 'Essential Eight'. The solution automatically gathers data from ongoing security operations and through direct connections to systems and configuration interfaces to determine coverage, identify weak points and policy failures against each of the controls.
You can read more regarding the Essential 8 Auditor on the web page: https://huntsmanphp7.flywheelsites.com/products/essential-8-auditor/