How well can organisations really manage cyber security risks?
In the past when you spoke to organisations about the need to manage their cyber security risks, your recommendations used to be met with blank looks and "we've never had a problem".
Now, cyber-crime is rightfully recognised as a significant risk to the success and value of every organisation.
What is the status of your organisation's cyber resilience?
The nimbleness and ingenuity of cyber criminals, and the ease with which they regularly breach defences with industrialised operations and well-engineered toolsets, has many managers asking: What should we do to manage cyber security risks?
There are no silver bullets and don't believe anyone who is offering one. There are however, a few steps your organisation can take.
Internal controls and cyber security risks
There are internal controls every organisation should have to boost cyber resilience. These include firewalls, AV gateways, malware sandbox solutions, IDS/IPS, network access controls, and host/endpoint protection. Building in-house security skills and awareness will increase the effectiveness of these investments.
Cyber security threat detection
Despite these internal controls, breaches can, and do, occur. So your organisation also needs to deploy threat detection and response measures.
Today, there are a few excellent applications – like Huntsman's own suite – that detect threats in real time and cut the time your organisation is exposed to cyber risk to seconds.  This reduces the potential financial impact, reputational damage and remediation costs that inevitably flow from a breach.
Outsourcing cyber security risks
As well as internal controls and threat detection, your organisation will probably also need to outsource expertise in areas like penetration testing, assurance, incident response and,  increasingly,  monitoring. A 24/7 monitoring service can detect alerts and other indicators of security compromise like anomalous network traffic patterns and unusual behaviour on the IT system.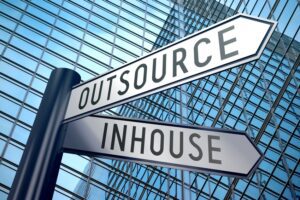 Cyber security Insurance
Finally, there's insurance, to assign or transfer your cyber risk to an insurer.
Like any insurance policy, the premium correlates with the size of the risk (likelihood and potential impact). So anything your organisation can do to limit that risk within your Information Security Management System (ISMS) or cyber security control framework should reduce the premium.
But beware: if your organisation does not have the requisite internal controls in place, an insurer may prove unwilling to underwrite your cyber security risk.
Key take-aways for cyber security resilience
So, in a nutshell, cyber resilience requires a balance of building internal capabilities, procuring outside help where you need it, and insuring against any related risks you can't reasonably manage.  Certainly for in-house teams the recognition that the scale of the problem is continuing to grow can shape thinking.
The investment may seem large. But the consequences of not adequately addressing cyber security threats can be massive.
If you'd like to gain some insight into cyber security incidents and attacks, watch this video: