A solution for Big Data Storage
Huntsman Extended Data Repository provides flexible storage for larger environments, with full management of data hierarchically.  It gives immediate, live, fast storage of short term data and cost-effective, commodity storage of aged data.  
An overview of Huntsman Extended Data Repository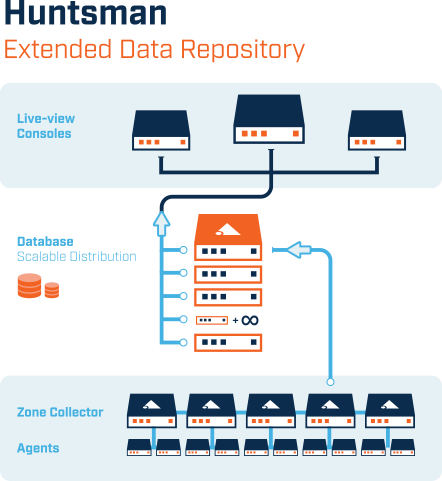 A single interface
The capability allows a single interface and full, unified management of all log and event data with flexible retention policies across all data repositories.  An extended access and query window operates across all data irrespective of the location of information.
The Benefits of an Extended Data Repository 
One interface across all data repositories. This means that data management, movement, storage, retention and hierarchy can make best use of both live platforms and cheaper hardware or media for less commonly retrieved data
Simultaneous, expanded query processing to include older data in any investigation – returning complete sets of results more quickly, without the need for manual intervention
Configurable data management policies that automate data flows, retentions, disposals and long-term backup
Multiple data repositories working in parallel and enable the primary monitoring systems to focus on real-time event and alert processing rather than querying extensive historical data
Automatic management and compression of longer-term archive data
Highly cost-effective licensing giving savings in up-front and ongoing costs, with no loss of query or access functionality.
No need to replace existing investments in software or hardware as longer-term data can be accessed across distributed repositories
How Huntsman Extended Data Repository works 
Completely flexible storage with pre-defined and automated retention and data movement across repositories
Distributed query processing across all data / large data sets to speed retrieval and provide unified data query outputs to analysts spanning current/live and older/dormant data
Support for unlimited layers to account for high volumes and long retention requirements due to legal, compliance or business operational reasons.
Want to find out more?
Arrange a meeting with our Security Specialist Access Resources Download Huntsman Brochures