Achieve continuous compliance with Cyber Essentials
Cyber Essentials is a UK Government information assurance scheme operated by the National Cyber Security Centre (NCSC). It is intended to encourage organisations to adopt good practice in information security that will improve cyber resilience. Cyber Essentials certification is required by all organisations bidding for central government and MOD contracts that deal with the handling of personal information and the provision of certain ICT products and services.
Huntsman Security's continuous monitoring solution measures the level of implementation and effectiveness of the Cyber Essentials security controls in an organisation. It can be used by Security Teams, Security Consultants, Auditors and Risk & Compliance Managers to support self-assessment or gain certified cyber security status.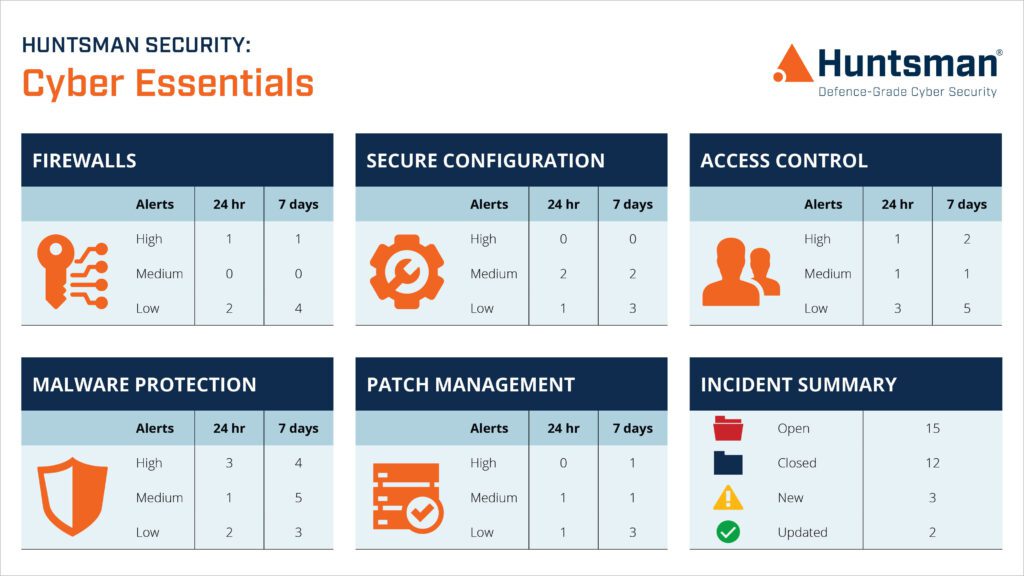 Huntsman Security's Cyber Essentials solution – Dashboard
A summary of Cyber Essentials requirements
There are five fundamental mitigation strategies that make up the Cyber Essentials framework, as summarised below.  Full details can be found at the NCSC site here.
Secure your internet connection
Protect your Internet connection with a firewall to create a buffer zone between your IT networks and other, external networks.
Secure your devices and software
Check settings and disable/remove any functions accounts or services that you do not require.  Ensure all devices are password protected, ideally with multi-factor authentication.
Control access to your data and services
Access to your data and services should only be given to those who need them.  Check what privileges your administrative accounts have – they should only be able to perform administrative tasks.  Only use software from official sources – manufacturer approved stores.
Protect from viruses and other malware
Adopt anti-malware measures included within operating systems. Implement application whitelisting to prevent users installing and running applications that may contain malware. Where possible, use versions of applications that support sandboxing.
Keep your devices and software up to date
Apply all manufacturers updates (patching) regularly.  Where possible, set devices to automatically update. When a manufacturer no longer supports software, look for a modern replacement.
Measure and track performance with Huntsman Security's solution
If you are looking to improve your cyber resilience by implementing the security controls detailed in the Cyber Essentials framework, it would be helpful to be able to track performance over time rather than just annually at the time of audit.  Systematic, continuous monitoring is  much better than finding out you have had a control failure that has been an issue for months, or worse, when you suffer an attack because a control that should be in place isn't working.
Huntsman Security's Cyber Essentials solution performs continuous monitoring to measure Cyber Essentials security control compliance which provides a number of advantages over scheduled scans and manual assessments.  These include:
Frequency and accuracy
The continuous nature of the technology enables ongoing assessments of the whole monitored environment, rather than just a sample subset. This leads to quicker detection of issues, wherever they are, and even intermittent issues that may only be present in the intervening periods between audits.
Through integration with software and patch management systems the solution reports upon all critical patches not installed upon any managed endpoints as well as applications or operating systems that do not meet minimum required versions.  The assessment of centralised policies, and the monitoring of policy deployment, also means that the solution can report not only on the quality of the policy, but also on whether it is enforced.
Awareness of issues to reduce remediation time
Upon detection of an issue, the solution raises an alert and notifies specified personnel via email or SNMP trap.  When integrated with an organisation's ticketing system, the solution enables issues and breaches to be responded to faster.
Stakeholder visibility
Huntsman Security's solution automatically generates reports to meet the requirements of a variety of stakeholders, from board executives and security managers to IT technical teams.  Summaries provide an easy to digest overview of status and trend, whilst details of remediation items are available for technical staff, broken down by system, patch, policy etc.  These reports demonstrate to external parties that Cyber Essentials standards are being maintained over time, and that detected issues are being appropriately dealt with.
The completeness of the solution means that the Cyber Essentials questionnaires can be completed in confidence, based on evidence rather than manually collected samples.  It also allows third parties wishing to validate Cyber Essentials controls, or undertaking Cyber Essentials plus assessments, to be provided with up to date evidence.
Protection of critical assets
The solution's agents are able to monitor critical assets and directories for any changes, alert upon these and take a copy of the changed file for use in investigations and remediation. This provides protection of sensitive data, even from authorised users, and easy recovery in the event of data loss or destruction by malicious users or malware.
Mapping to the Cyber Essentials controls
Download the Cyber Essentials Compliance Guide to explore how Huntsman Security's solution evidences each of the sub-controls within the Cyber Essentials self assessment questionnaire and supports your organisation's pursuit of ongoing cyber resilience.
Find out more about Cyber Essentials compliance