What You Need to Build a SOC
As your business grows, so does cyber risk. The tasks surrounding security monitoring, threat detection, alert and incident handling and – in line with regulatory and compliance requirements – breach response need to formalised. You also need to establish structure around service levels to your business and any customers. This capability requires a Security Operations Centre (SOC).
Download the MSP Guide to Building Security Services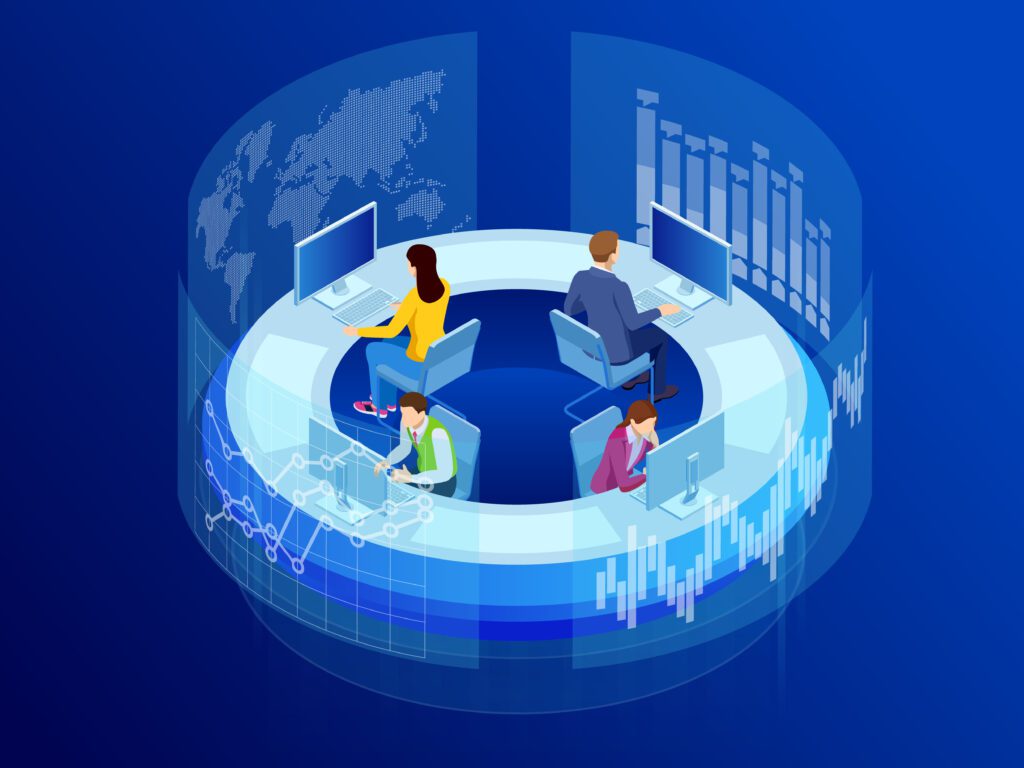 If your business is looking to build a SOC, or if you are developing and maturing your SOC there are several things that you will need to address – covering people, process and technology.
Huntsman Security can support you with the technology element and in turn processes.
Huntsman Security's SIEM – The Core of Your SOC
Huntsman Security's SIEM technology is an ideal partner for your SOC. It provides threat detection, alert management and incident response from the ground up. It operates quickly and autonomously, and interfaces with people in various roles the way they need it to. enter page url
Download Enterprise SIEM BrochureDownload MSSP SIEM Brochure
Extensive Threat Detection with Advanced Security

Analytics
Rapid detection of a wide range of cyber threats is critical in protecting your business; from the obvious and the obscure, the frequent and the rare, the known and the unknown, to the simple and the complex.
Huntsman Security's next generation SIEM provides the widest range of threat detection capabilities.
The SIEM's Security Analytics engine processes data in real-time and in-stream to maximise the scope and speed of detection. It uses patterns, correlation across multiple sources, external threat intelligence, user and entity behaviour analytics (UEBA) and machine learning at the user, network, platform and application level. All relevant data is scrutinised.
A scalable solution for any business

Whether you manage a small business with a few technical operators or a multi-role, multi-disciplined team with 1st/2nd line operators, incident analysts, threat hunting and various management stakeholders who need visibility, our SIEM flexes and grows with your requirements. Its data store fluidly grows in capacity over time as needed and in response to surges of data that arise from a breach.
Streamlining your Incident Management Workflow
The Alert & Incident Management workflow is complex and time consuming. If you operate a large SOC you need technology that alleviates the sheer volume of routine demands such as qualifying alerts and triaging those that need attention.
You need to focus your security team on proactive threat resolution.
Fast and Automated Incident Response
Large, high volume SOC environments can be supported with the automation capability of Huntsman Security's next generation SIEM. The technology delivers extensive automation and orchestration of alert investigation (data gathering/threat verification) and incident response (quarantining/blocking):
The incident management process is reduced from weeks and months to seconds and minutes;

Automatically gathers context to verify alerts;

Slashes the number of false positives for investigation;
For real threats Huntsman Security's SIEM can either:
Deliver a case file of all relevant information to the analyst team, or;

Undertake a machine automated action to resolve the incident.
Actionable Reporting insights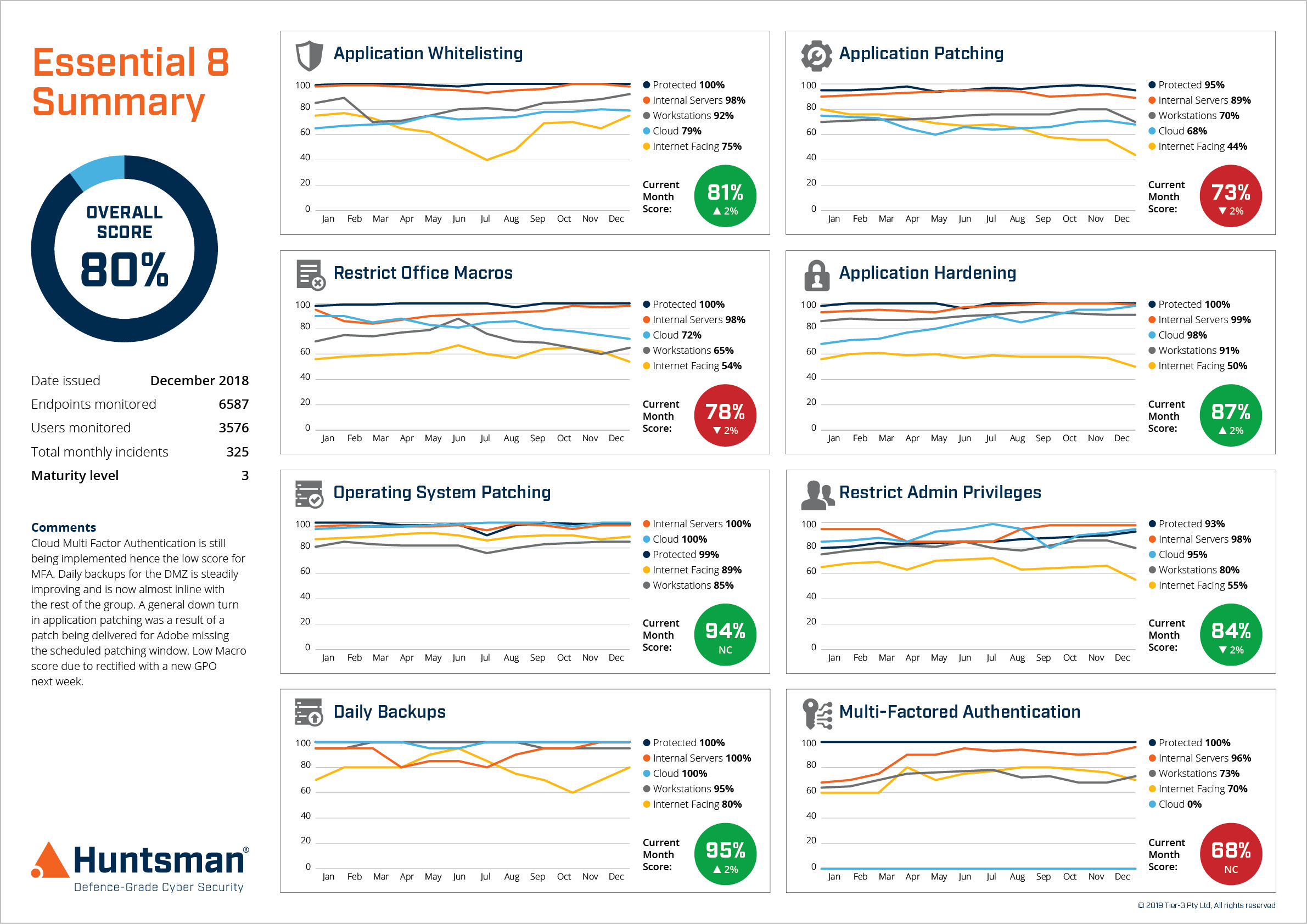 Essential 8 Scorecard – Trend Report
Clear, concise, timely reporting is paramount to building your SOC maturity. Regardless of which Huntsman Security technology you are using, the reports and dashboards support:
Security operators see what's going on at both a high-level and operationally

Management Stakeholders to review security posture and make informed decisions
This is vital in demonstrating security defence status, reporting on compliance, producing evidence for audits, tracking trends over time or understanding real issues at a specific moment in time.
Measure the Maturity of your Security Operation
First things first. Understanding the current status of your security posture is key to developing any plans to create and mature your SOC.
With the aid of the Essential 8 Auditor or the Essential 8 Scorecard you can measure the effectiveness of your operation's security controls and determine how mature your security operation is.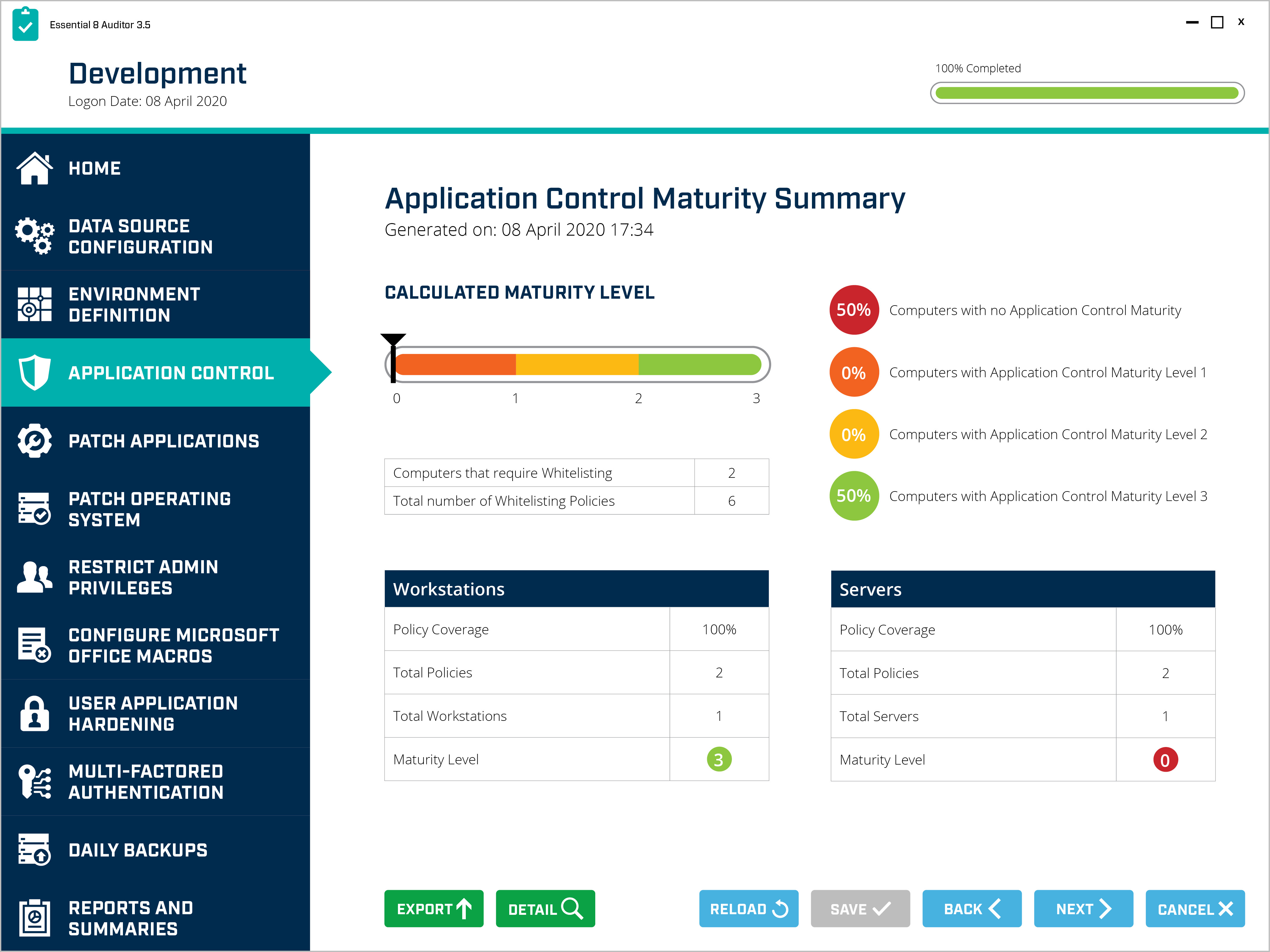 Essential 8 Auditor – Application Control dashboard
The Essential 8 products measures eight KPIs identified by the Australian Cyber Security Centre as being the key "Essential 8 controls" for reducing security breaches by up to 85%. The Essential 8 Auditor executes an audit to deliver an immediate view of your security controls effectiveness., whereas the Essential 8 Scorecard continuously monitors and reports on your security controls effectiveness for ongoing visibility and management.
Explore Essential 8 Auditor BrochureExplore Essential 8 Scorecard Brochure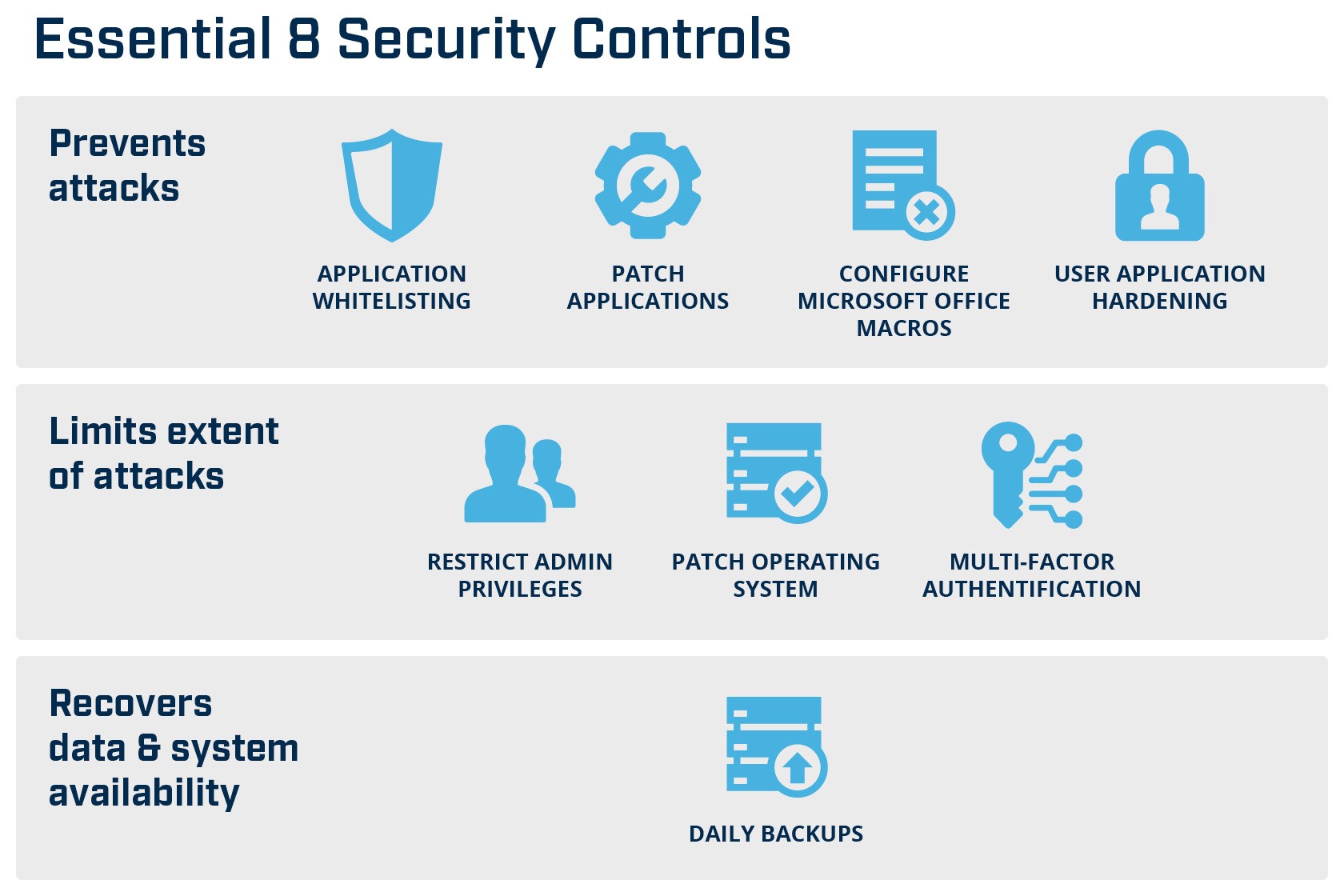 ACSC Essential 8
Find out more about how to develop a SOC
Support the development of your SOC with Huntsman Security technology