See unknown and unknowable threats with Behaviour Anomaly Detection
Huntsman Security's Behaviour Anomaly Detection (BAD) / User Entity Behaviour Analytics (UEBA) engine ensures suspicious activity, whether by users, machines or applications operating across the network can be easily detected, investigated and resolved based on learned profiles of baseline behaviour that can be fixed once derived, or continuously variable as the network grows or patterns of use evolve.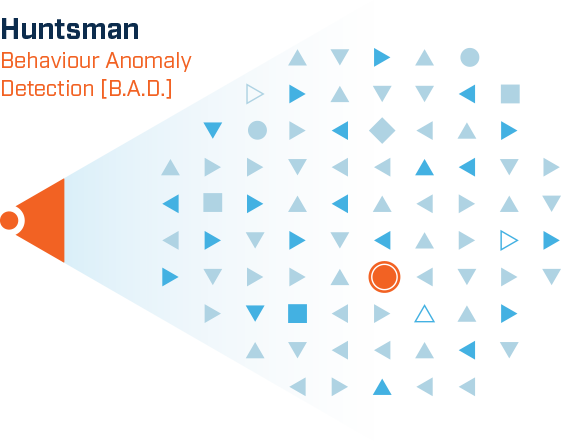 Our Behaviour Anomaly Detection builds on policy-driven or rule and pattern-based analysis to detect unknown and unknowable activity from insiders or external parties using machine learning to highlight statistical or behavioural anomalies that can indicate a security attack, data loss, insider misuse or other issue.
Video: What is Behaviour Anomaly Detection and why do you need it?
What Behaviour Anomaly Detection delivers
Real-time detection of cyber threats and insider misuse
Reduced operational risk to limit uncertainty and remove operator error
Visibility of anomalous activity within the network, operating system and application layers
Enriches data collection and enables both rule-based and behavioural analysis
How Behaviour Anomaly Detection works
Adapts to authorised network changes, gradual trends, usage spikes and work patterns
Automatically distinguishes suspicious and risky outliers from normal events
Real-time correlation and analysis of user, device, application, network activity and other data sources to detect:

Advanced Persistent Threats (APTs)
Smart, customized and targeted malware
Malicious or negligent insiders abusing access and putting information at risk
Data exfiltration, lateral movement and the use of credentials by attackers
'Unknown' and 'unknowable' external and internal threats

Visual analysis GUI so metrics, key information and sensitivities can be displayed and tailored to meet precise profiling requirements
Huntsman Security Products with Behaviour Anomaly Detection
Find out more about Behaviour Anomaly Detection