Achieving PCI DSS compliance with Next Gen SIEM
The Payment Card Industry Data Security Standard (PCI DSS) has become the industry standard that defines the security steps necessary for the protection of payment card customer data.  The requirements set by the standard are broad-reaching and require integration of IT systems and security solutions with policies and procedures.
Huntsman Security's PCI DSS Compliance Guide  explains how our Next Gen SIEM helps you meet the challenge.
PCI DSS Compliance – Key questions you need to answer
If your business strives to achieve PCI DSS compliance knowing the answers to some fundamental questions will give you a good indication of how developed your organisation's cyber resilience is:
Who is accessing and using your data;
What are they doing;
Where are they taking it; and
Whether their use is legitimate or not.
What you need for PCI DSS compliance
There are a few key capabilities that you will need to achieve PCI DSS compliance:
PCI compliance controls and database access monitoring
Data assurance, application security and data breach protection
IT risk management, event contextualisation &correlation and real-time access monitoring
Behaviour anomaly detection to baseline normal activity and detect suspicious activities
Operational risk mitigation and proactive compliance monitoring
Next steps for PCI DSS compliance
Our PCI DSS compliance guide demonstrates how Huntsman Security's  Next Gen SIEM & Security Analytics technology helps you meet your obligations.  The PCI compliance software does this by:
Continually monitoring network traffic, end points, servers, databases, applications and existing security systems for alerts, abnormal behaviour and suspect activity
Monitoring and alerting on additions, deletions, lockouts, and modifications of user accounts, privilege escalation of user access to card holder data and invalid logical access attempts
Enabling IT security staff to connect the dots between apparently unrelated events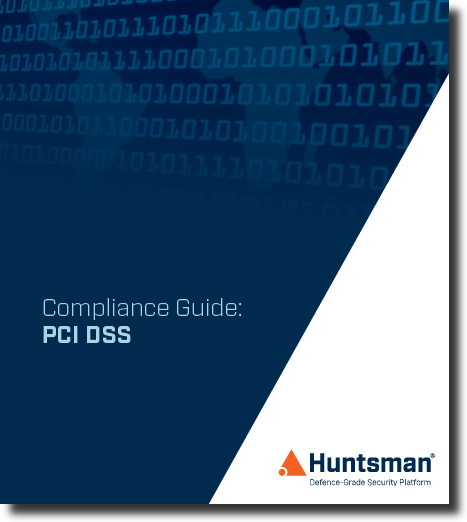 Find out more about PCI DSS compliance