Automate threat resolution and reduce your organisation's time at risk to seconds
Automated threat resolution enables rapid threat containment of information security threats. When your organisation is running threat detection systems, you'll be aware they can generate an avalanche of data on potential threats and indicators of compromise, which your security team then needs to assess and respond to quickly. This threat verification triage is getting busier and more time consuming month on month, year on year, exposing organisations to immense risk of loss.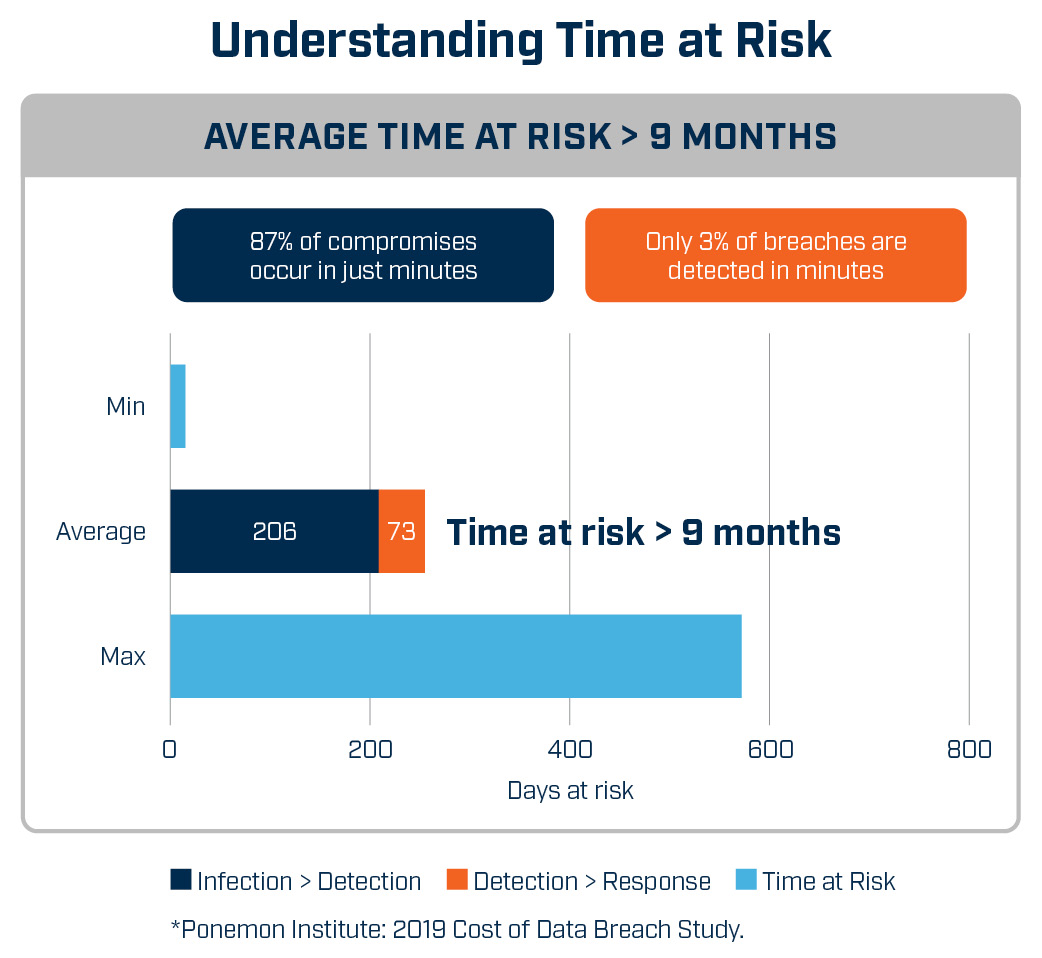 On average, it takes businesses 206 days to detect infections, and a further 73 days to resolve them
The man versus machine challenge
Even with threat detection solutions that deliver extensive threat context – the problem prevails. Security alerts are bundled within an avalanche of data on potential threat and indicators of compromise, which your security team needs to manually investigate and verify if the threats are real.
Check out the Threat Overload infographic detailing

the top 5 challenges Security Analysts face every day
Investigating machine generated alerts manually is simply not effective (as the Ponemon Institute research shows). Your team needs to have a machine generated response to relieve the pressure on the incident management process.
What a good Threat Resolution Solution delivers
Rapid threat containment
Minimal time spent on evaluating False Positives
Automated, streamlined Security Operations processes
Time for your Security team to investigate and respond to real threats
Time for proactive threat hunting
Reduced time at risk
Reduce time at risk with Enterprise SIEM

Huntsman Security's SIEM for Enterprises contains a security orchestration, automation and response (SOAR) technology that helps to manage the gap between detection and response. Our technology automatically verifies ALL security alerts in seconds, and delivers a case file of all available and relevant information for threat solution by (a) a senior analyst or (b) machine automated action.
Huntsman Security's Enterprise SIEM in action with Cisco ISE
Enterprise SIEM works with 3rd party enforcement tools such as Cisco ISE to automate security processes enabling Rapid Threat Containment.
Endorsement from the experts
"The end result [of deploying Huntsman] is faster and more accurate security decisions, shorter threat queues, and a far shorter time at risk — seconds, rather than hours or longer. This reduces the dwell time for attackers as well as numerous costs associated with breach response and forensics."
Enterprise Management Associates (EMA), on the speed and accuracy of the Huntsman Security solutions
Take steps to contain the threats to your organisation