IT security auditing made easy – gain visibility of cyber threat exposure
IT auditing just got a whole lot easier. In these unprecedented times, when your ability to run IT audits is compromised, protecting your business, your client's business and your customers matters more than ever; the Essential 8 Auditor executes an IT audit that can be exported and shared to remote working colleagues and stakeholders. Gain visibility and stay in control.
Watch the Essential 8 Auditor Video Overview
Essential 8 Auditor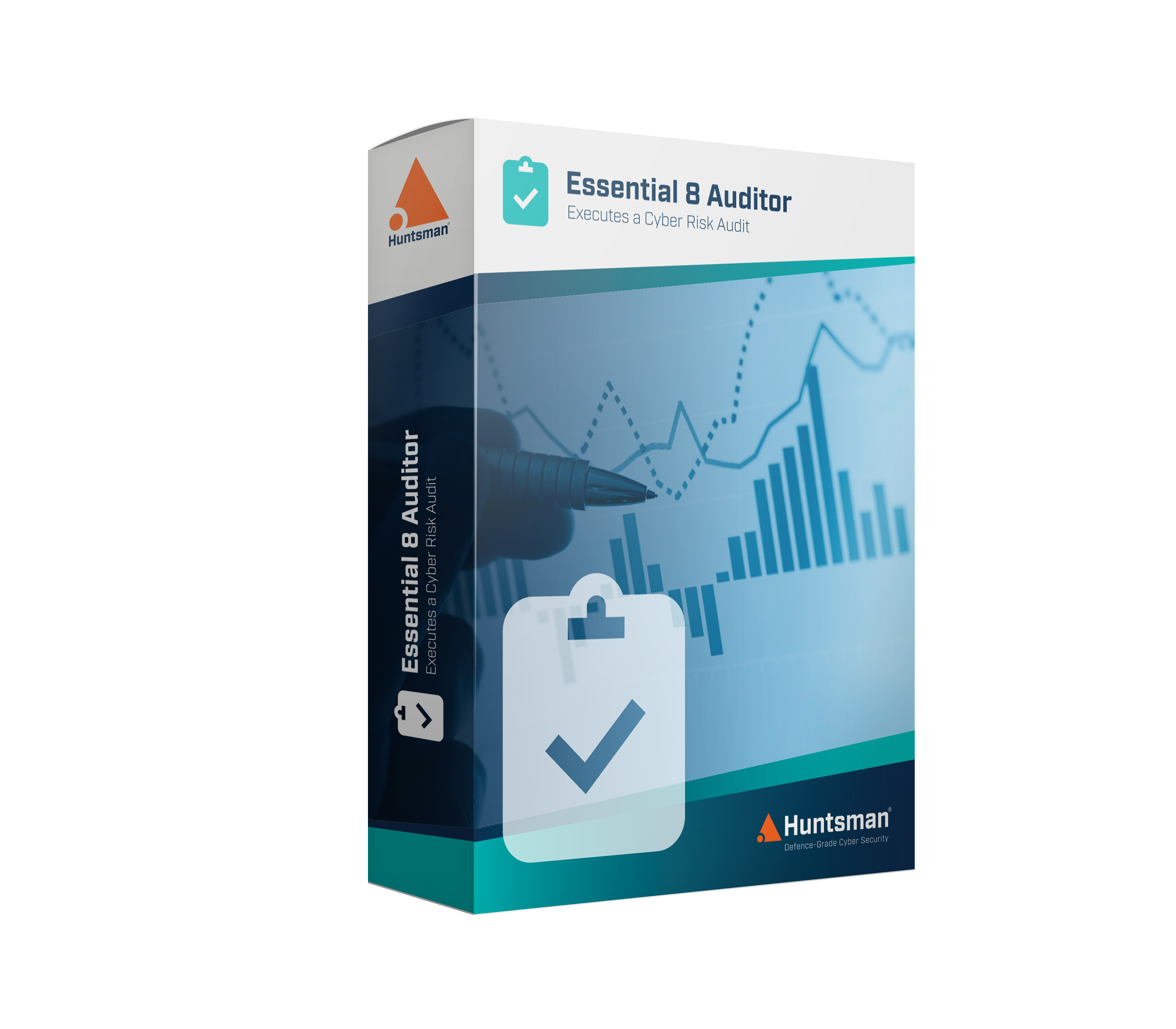 Our Essential 8 Auditor is a 'self-install' cyber security auditing tool that your IT team can download themselves – no engineering required. It provides an objective, quantitative measure of gaps in an organisation's cyber security controls. Using the Essential 8 Auditor, you can quickly and easily measure performance when you want to; no more ploughing through spreadsheets and collating data, simply export the metrics and share with key decision-makers – to make informed decisions fast!
Join us for a webinar
Why not join one of our webinars to see our Essential 8 Auditor being demonstrated, The auditing tool measures the implementation and effectiveness of the eight critical security controls found by the Australian Signals Directorate to mitigate 85% of targeted cyber attacks.
The webinars show how you can quickly and easily benchmark your environment's cyber resilience against the Australian Government's Essential Eight framework. Alongside this, we'll discuss the importance of ongoing clear and reliable security metrics for your security team and senior management.
Short video overview
If you'd like to discover more now, click on the image below to view the short 3.5 minutes video that explains what the Essential 8 Auditor delivers.
Download Essential 8 Auditor Brochure
The Essential 8 security controls – what they are and why they are important
The Essential 8 (E8) Framework was developed by the Australian Signals Directorate (ASD). It is a prioritised list of practical security controls that organisations can implement to make their organisation's information more secure. They have been found to mitigate up to 85% of cyber attacks. You can read more at the Australian Government site.
No matter what jurisdiction you are in, or which framework your government recommends, the key eight security controls are recognised as critical to cyber resilience as they prevent attacks, limit the impact of attacks and recover data and system availability.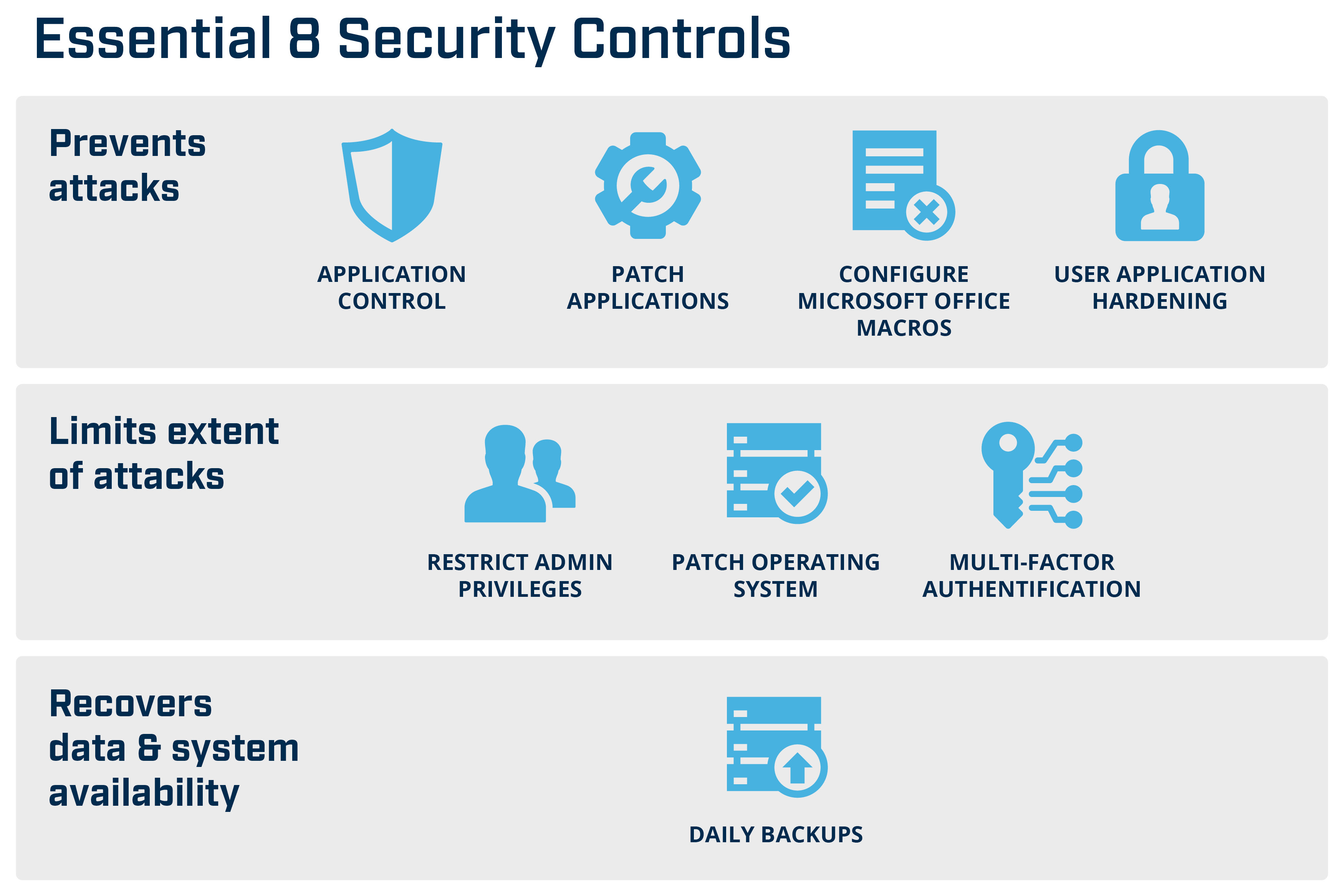 Essential Eight Security Controls – 8 controls to mitigate the most common cyber threats
Gain objective visibility of key performance metrics
The Essential 8 Auditor quickly and objectively answers the question "what is my organisation's cyber posture?"
Immediate audit of of your security controls effectiveness against the Essential 8 Framework
Determination of your environment's maturity against the Essential 8 (levels 0-3)
Benchmarks performance against Essential 8 maturity level 3
Essential 8 policy coverage across your environment
The basis for compliance reporting and annual attestations
How the Essential 8 Auditor works
The Essential 8 Auditor automatically gathers data from ongoing security operations and through direct connections to systems and configuration interfaces to determine coverage, identify weak points, policy failures and vulnerabilities against each of the controls.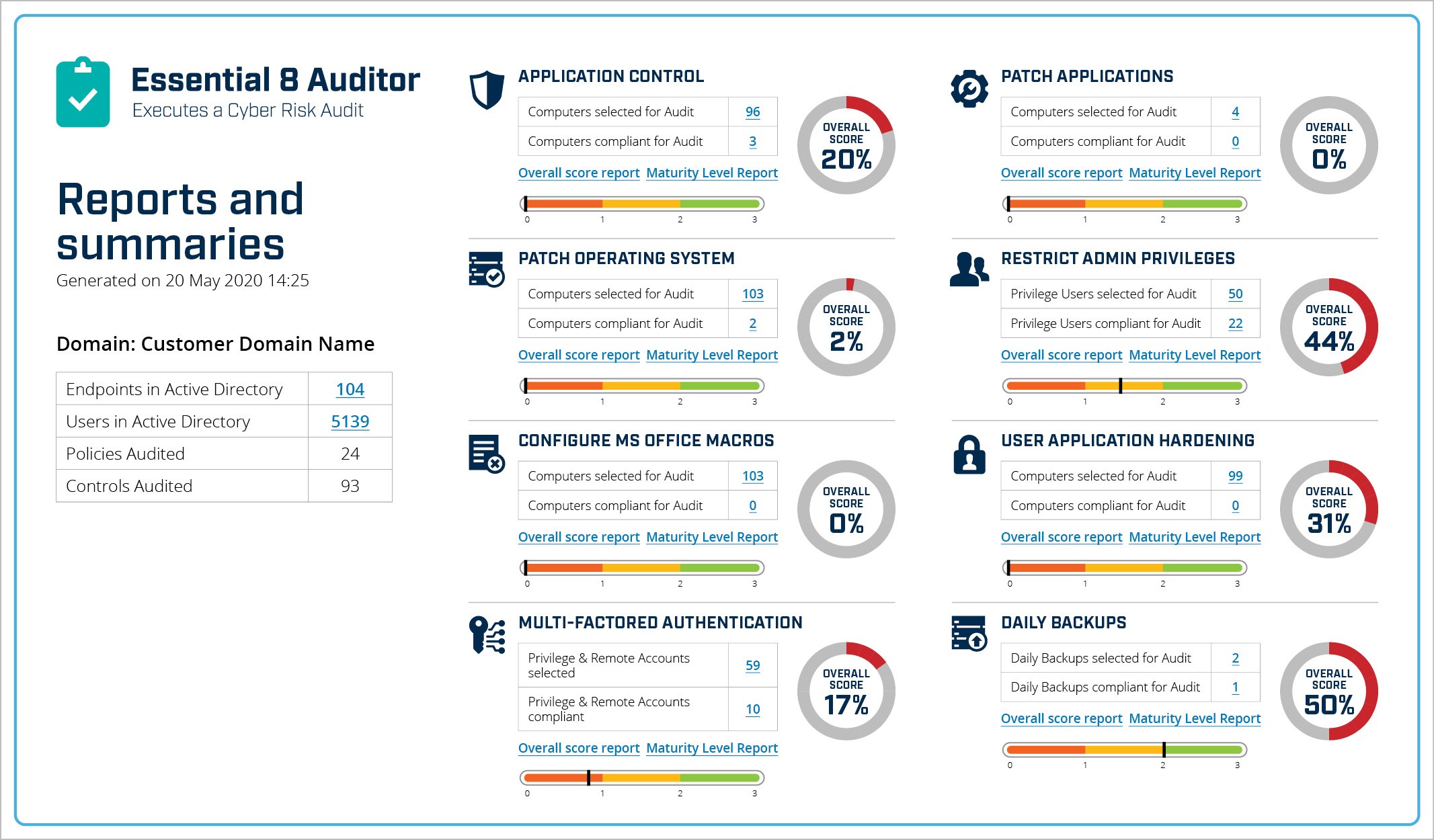 Essential 8 Auditor – Security Control Performance Dashboard
Fast self-installed agentless software
The Essential 8 Auditor is self-installed agentless software making it quick and simple to deploy, when convenient to you and your organisation. You don't need to invest days and weeks of of your team's valuable time, nor do you need to pay expensive professional services costs.
Execute a Cyber Security Audit when you want it
Using the Essential 8 Auditor means you can review an organisation's security controls effectiveness, when you want to. It can be used for a number of different purposes:
Internally, to determine an objective measure of cyber risk exposure
Internally, forms the baseline for Annual Compliance reporting and Cyber Risk Attestations
Externally, an auditing tool for Security Consultants, Auditors and Risk & Compliance Managers
Want to find out more?
If you are looking for an immediate view of an organisation's security controls effectiveness download the Essential 8 Auditor brochure. Alternatively, if you want continuous measurement and management, then the Essential 8 Scorecard could be the product for you.
Download Essential 8 Auditor Brochure Download Essential 8 Scorecard Brochure