APRA CPS 234: An Overview of the Cyber Security Standard and How to Apply it
The Australian Prudential Regulation Authority (APRA) regulates Australia's financial services industry and, as such, has responsibility for compliance and governance over all aspects of the finance industry. This is a wide and complex remit, since financial services cover a wide range of specific business types, so when they announced their draft standard for cyber security last week, APRA CPS 234, it immediately begs the question, how can it be applied?  
APRA CPS 234 – The new Cyber Security measures
APRA is discharged a wide and diverse remit by the Australian government to regulate consumer banks, business banks, insurance companies, hedge funds, investment banks and superannuation providers, so their announcement on the 7th March 2018, relating to new cyber security measures, was received with interest by the security community. The Discussion Paper they published with the press release, entitled, Information Security Management: A new cross-industry prudential standard, shows that their intent is to enforce this standard immediately after they have been through the industry consultation period.
APRA say that the cyber security measures they are proposing will help APRA-regulated entities to repel cyber adversaries, as well as handle incident response swiftly and effectively if a breach occurs.
APRA CPS 234 – Cyber Security Framework for Finance
The proposed standard, called  APRA CPS 234, requires that all APRA-regulated entities do the following:
Define information security roles and responsibilities of the organisation's board of directors, senior management, governing bodies and individuals;
The business maintains information security capabilities that are appropriate to the size, scale and extent of the threats to their assets;
Commission cyber security controls capable of protecting the organisation's assets, and, "undertake systematic testing and assurance," regarding the effectiveness of those controls;
Develop mechanisms to detect and respond to information security incidents in a timely manner; and
Notify APRA of material information security incidents.
Interestingly, these security controls are all taken from the international standards, as proposed in frameworks like ISO 27001, so this is nothing new to the security industry. However, the good thing is that APRA sees the need to publish enforceable standards to the businesses they regulate, which means cyber security will be a requirement rather than a nice to have.
It's worth noting that there are a variety of improvements that can be introduced into the business over time regarding security posture. These improvements should be managed by a security professional, hired into the role of Information Security Manager, or at board level, Chief Information Security Officer. This head of security role should be charged with demonstrating continual service improvement across the organisation's entire security programme, that way allowing the board to rest assured the business is always striving to be ahead of the threats.
Not compliant to the existing standard?  Download the July 2019 APRA CPS 234  Compliance Guide and learn how to make your business more cyber resilient: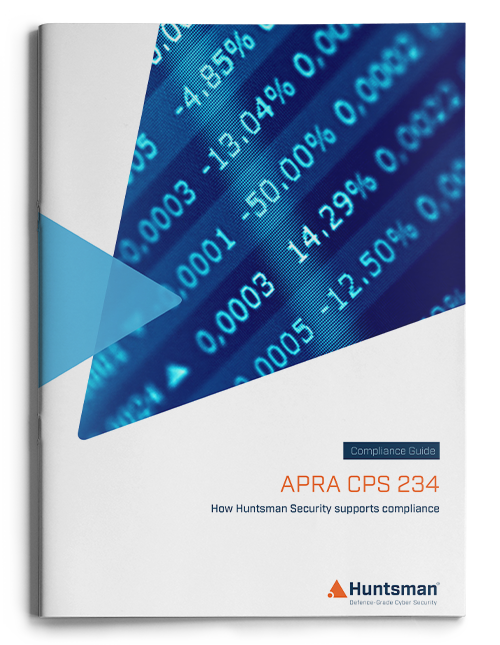 Operational security, which encompasses the people, processes and technology needed to deliver appropriate technical security outcomes for the business, must become a major focus for APRA governed organisations. This encompasses the mechanisms to detect and respond to information security incidents and many of the cyber security controls needed to fortify their networks, systems and premises. The focal point of any successful operational security capability often becomes the Security Operations Centre (SOC), which is either a standalone control centre for all security matters, or is a capability integrated into the Network Operations Centre (NOC) designed to handle security monitoring and threat response.
What Assets need protected?
The simplest way to look at this is to use the process model to derive an appropriate set of staff and technology requirements. However, before jumping into any technical solution, it's imperative to ask what it is that needs protecting? Sensitive data, such as intellectual property, confidential financial information and customer or employee personal information, all need to be secured. Start with an internal audit of this information and rationalise what really needs protecting rather than what is often misconstrued as requiring security, when in fact it may already be in the public domain.
What are the threats to your business?
Next, identify threats to the business. Each information category identified in the internal audit needs consideration from this threat perspective. Who would benefit from compromising the confidentiality, integrity or availability of this information? Remember, it's as important to consider external threat, such as cybercriminals trying to get their hands on your PII, but also look at the possibility of insider threats, be them negligent employees or potentially disgruntled workers.
Undertake a Vulnerability Assessment
Next, it's time to assess your networks and systems for what the security industry refers to as vulnerability. These are unpatched systems or configuration mistakes that leave the system vulnerable to attack. A Vulnerability Assessment is usually undertaken by an external expert service provider as it involves specialist tools and experience to make sure it's comprehensive.
Armed with the knowledge of where sensitive data exists, who the threat actors are and where vulnerabilities are within the business's systems, it's much more accurate to calculate information risk based on these facts. A risk assessment will help focus investment decisions in information security onto what's important rather than running blindly into buying technology to thwart and unquantified and unknown set of risks.
Finally, it's time to mitigate the most important risks, using people, processes and technology.
APRA CPS 234 – A Sensible Approach to Security Improvement
Start with the processes the business already has in place for implementing and managing change. If the business already uses a service management framework, such as ITIL, then change management processes should already exist and employees can follow these when system or process changes are required. Every single change resulting from the information security programme should be well-considered, designed and tested, and rolled out with a backout strategy, just in case something goes wrong.
Focus on the networks and operating systems
One of the most important things to take control of regarding security is gaining the visibility of what's really going on, down in the depths of the networks and systems the organisation uses to process and store data. A comprehensive identity, access control, authentication, authorisation and accounting solution will require a holistic capability for monitoring who is doing what, where and to what company assets, with that information fed back as an audit trail to the SOC.
Disaster Recovery – is your business prepared?
Lastly, ensure the organisation's disaster resilience, backup and recovery and incident management capabilities (covering people, processes and technology) are all in place. Even the most robust operational security controls are no guarantee the business won't be breached, so construct and test plans to respond to incidents before they really happen, as this will identify issues with the process and ensure people understand what to do in a crisis.
APRA CPS 234 – How can Huntsman Security Help?
Huntsman Security provides a technology solution that fundamentally supports the activities of the SOC. Our Security Information and Event Management (SIEM) solution ingests security audit information at high speed (> 5 billion events per day) from every corner of the network, from every system and application plugged into the network and from every user interaction with corporate information. This information is then mined using sophisticated algorithms to firstly baseline what looks normal for your business, and then reports any anomalies to the SOC team to investigate.
For more information on how Huntsman Security can help you become compliant to the July 2019 APRA CPS 234 standard, please Contact Us.